Financial Inclusion Solutions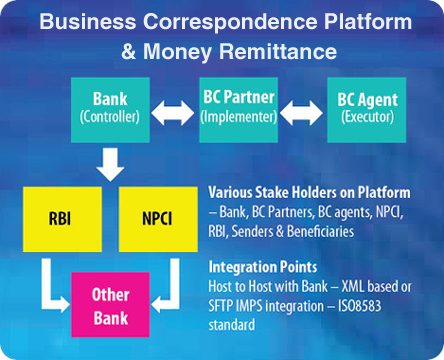 Integrated Domestic Money Remittance Platform for Bank's

Given the various challenges in the conventional system of banking - GI offers an integrated system which is time tested, robust and contributes 80% of IMPS based domestic remittances in india using our own switching capabilities




SYSTEM SCALABILITY




Biometric interface & e-KYC
Corporate use case
Wallet linking to prepaid card programme or to bank account
Remittance from wallet / card / bank account
Cash to cash using Aadhaar



PROCESS INVOLVED




User Management and controls with all encryptions
Access authentication as per bank's requirements
BC partner on-boarding and approvals
Document Management
Revenue share management for BC Partner, BC Agent and Auto Settlement system
Host to host connections with CBS
BC agents on-boarding and approvals
Sender registration process and KYC approval
Beneficiary registration process
Multiple remittance mode - cash to bank, card to bank and etc
Multiple remittance channel - IMPS (IFSC), MMID, NEFT
Auto upload of NEFT Transactions
Auto download of response file (Option) to BC Partner System
Refund Management OTP based
Sender and beneficiary - common data pool for interoperability
MIS Controls
OTP and SMS engine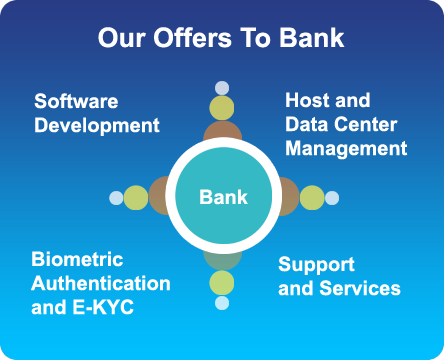 Remittance and Banking Correspondent platform
GI Integrated Remittance and Banking Correspondent platform provides a powerful suite of products and services that facilitate the bank to grow their agent led business fast. This platform enabled easy appoint of BC partners or BC / Specialized agents who can acquire customers for banks, issue mobile wallets or create accounts to new customers, facilitate domestic money remittance, issue of cards through wallet, Cash in/ Cash out, CMS, other financial and banking transactions. This platform will synchronize with the core banking systems on a regular basis or even live.
GI Integrated Remittance and Banking Correspondent is used by leading private banks like YES BANK who are market leaders in retail domestic remittance and urban financial inclusion and now 3 more customers are going to go live.
GI Remittance Engine is a core module of the GI Integrated Remittance and Banking Correspondent platform is perfect for banks and PPIs who want solutions only for their retail domestic remittance business. This remittance engine works on both IMPS and NEFT for P2A, P2P, P2M transactions with good back end controls and MIS. This is majorly used by banks and PPIs.
GI's IMPS Transaction Switch which is the core of the GI Remittance Engine is now being made available as a standalone module for banks and financial institutions that want just the IMPS switching without the Remittance Engine. GI's IMPS transaction switch can be used on a standalone basis by banks and financial institutions for transaction processing, validations, refunds and settlements.
Wallet Management
Wallet Management is a part of the GI Prepaid platform. This can be used for mobile, eCommerce and Physical card based wallets. Banks and financial institutions will find it useful for large volume B2B and B2C transactions.
Copyright © 2014 GI Technology pvt Ltd. All rights reserved.